China's On! The Grand Prix Series Opening Event!! The Cup of China Free Skate
Other Name:
Yuri!!! on Ice Episode 7 Description:
Having finished the short program in first place—a first-time feat—Yuuri falters under the massive pressure. Can his fragile heart withstand Victor's roughshod intervention?
Yuri on Ice has been well received in Japan. It won three awards at the Tokyo Anime Award Festival, a Japan Character Award, seven awards in Crunchyroll's inaugural Anime Awards, and in 2019 was named by the website's editorial team as one of the top 25 anime of the 2010s.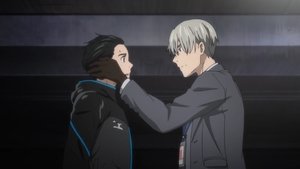 Nov. 17, 2016