China's On! The Grand Prix Series Opening Event!! The Cup of China Short Program
Other Name:
Yuri!!! on Ice Episode 6 Description:
The Cup of China, a Grand Prix Series event, is here! Realizing that he is the man who took Victor from the world, Yuuri gets worked up before his performance. Victor is concerned to see Yuuri this way for the first time…
Yuri on Ice has been well received in Japan. It won three awards at the Tokyo Anime Award Festival, a Japan Character Award, seven awards in Crunchyroll's inaugural Anime Awards, and in 2019 was named by the website's editorial team as one of the top 25 anime of the 2010s.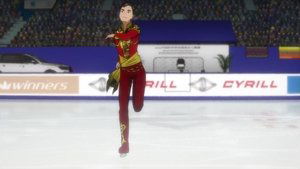 Nov. 10, 2016