Two Yuris?! Drama at Yu-topia
Other Name:
Yuri!!! on Ice Episode 2 Description:
Out of nowhere, five-time world champion Victor Nikiforov declares himself Yuuri's coach. When world junior champion Yuri Plisetsky follows Victor to Hasetsu so that he can bring Victor back to Russia, the chaos only deepens…
Katsuki Yuuri is at a crossroads after suffering a miserable defeat at the Grand Prix Finals. Uncertain whether to retire or to continue, Yuuri holes up in his family home. However, a chance circumstance causes him to catch the eye of five-time world champion Victor Nikiforov…
Yuri on Ice has been well received in Japan. It won three awards at the Tokyo Anime Award Festival, a Japan Character Award, seven awards in Crunchyroll's inaugural Anime Awards, and in 2019 was named by the website's editorial team as one of the top 25 anime of the 2010s.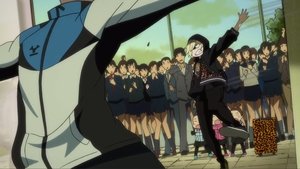 Oct. 13, 2016