Interference of Loss!
Other Name:
Free! – Iwatobi Swim Club, フリー!
Genres:
Comedy, Drama, School, Slice of Life, Sports
Free Season 3 Episode 4 Plot Summary:
Haru, Makoto, and Asahi visit Shimogami University in hopes of talking to Ikuya, but even after looking all over campus, they can't find him. Hiyori, however, notices them and makes it his mission to keep them from seeing Ikuya.

The film High Speed! Free! Starting Days, released in December 2015, depicts events from volume 2 of the series' prequel light novel, High Speed! A film trilogy was released in 2017 with the first two films being compilations of both seasons of the anime series titled, Free! Timeless Medley – the Bond and Free!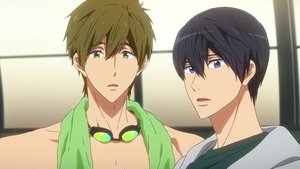 Aug. 02, 2018